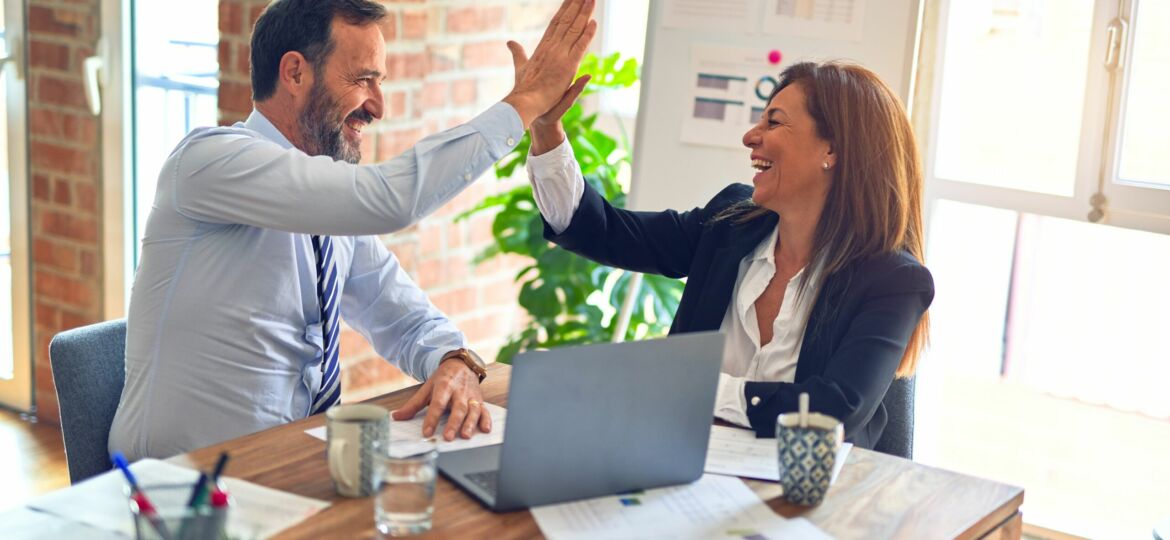 From creating consistent rituals to allowing your team to blow off steam, here are the 13 answers to the question, "What are some helpful tips for first-time managers?"
Have a Checklist of To-Do's Ready Before One-on-One's
Find Out the Unique Details of Your Workplace
Learn the Eisenhower Matrix
Communicate Clearly and Frequently
Identify Employee Motivators
Establish a Culture of Feedback
Be Mindful of Your Own Biases
Ask for Coaching From Your Boss
Form Team Rituals
A good tip for first-time managers is to create team rituals and remain consistent with these practices. Workplace rituals can help develop trust, boost engagement, and give employees a strong sense of belonging. 
For instance, you can do "Throwback Thursday" and ask each employee to share pictures of how their week went the days before Thursday. You can also do the "Rose and Thorn," where employees share a positive and negative experience they had over the weekend. 
Michael Alexis, CEO, TeamBuilding
Have a Checklist of To-Do's Ready Before One-on-One's
Approach one-on-ones with your teams with strict intentions, questions, and notes. To make the most of your and your direct reports' time, keep personalized notes, updates, and feedback with your teams.

Keeping up with teams mindfully bolsters your interpersonal relationships and maximizes the effectiveness of one-on-one meetings. Managers inevitably have many of these meetings throughout their careers.

It's up to managers to set the best example and use their time efficiently for employees so that both parties get the most out of their time. The more managers approach meetings with a checklist of what to learn or provide feedback on, the more smoothly everything will run.
Guna Kakulapati, Co-Founder & CEO, CureSkin
Find Out the Unique Details of the Workspace
Becoming the new manager will probably throw a bunch of logistical tasks onto your plate all at once. This will be especially true if you're joining a new job in a managerial position. 
It will pay to get some insights from past managers on how the job runs, what to look out for, and any details about the staff you'll be working with. Any information that can help you transition smoothly into your new role will be key. 
Also, be willing to listen to those who work under you and inquire about any situations they may have that play a role in their working day. For example, if someone leaves early to pick up children on certain days, that is something you want to be keenly aware of before it becomes an issue. 
You may not end up doing things as a previous manager did, but it still won't hurt to have some pertinent information before stepping in to fill the role.
Max Schwartzapfel, CMO, Schwartzapfel Lawyers
Learn the Eisenhower Matrix
A mentor shared this graph with me and was so helpful. As a new manager, it's a great practice to run tasks through this matrix to determine if you'll do them yourself or delegate them to team members.
Learning how to delegate tasks is one of the trickiest parts of transitioning to manager, and this is a great way to weigh the importance and urgency of items.
Sara Bodner, Digital Content Manager, Conklin Media
Focus on Positivity
If I had one tip for first-time managers, I would tell them to focus on keeping things positive and optimistic.

As a leader, you want to create a positive and comfortable workplace where your employees feel they can speak up and share their ideas. Especially early on as a leader, you want to create this type of environment in order to get the most out of employees and encourage positive vibes.

You want your employees to be encouraged to express their thoughts and ideas to better the workplace and company. It's important to stay open-minded and remember that everyone's ideas are important! This will drive employees to push themselves and work hard to reach goals as well because everyone feels they are contributing and have a purpose.
Shaun Connell, Founder, Writing Tips Institute
Empower Your Teammates
First-time managers often think that they need to be the smartest, most experienced person in the room. Nothing could be further from the truth. Instead, empower your team to come up with solutions, too. 
You can do this by giving them credit for their own answers. This sounds silly, but it's true. Poor leaders will take credit for their team's work, without recognizing their contributions. Influential leaders give their teams credit and empower them to solve problems. When you do this, you will also build loyalty in your team. 
People won't feel the resentment associated with not being able to contribute to the overall strategy, or not getting credit for their work. Instead, they'll know that in you, they have a voice in the organization.
It's in their interests to keep you as the manager, instead of someone else who may not give them the freedom and credit that they feel they deserve.
Dennis Consorte, Digital Marketing & Leadership Consultant, Snackable Solutions
Communicate Clearly and Frequently
Clear and consistent communication is essential for any successful team. As a manager, it's important to set the tone and ensure that everyone agrees regarding goals and expectations. 
Make sure you keep your team members informed about project updates, changes in plans or deadlines, and successes. Additionally, provide feedback to team members regularly. This will help improve their performance, keep them motivated and ensure employees align with the company's goals.
Last, provide them guidance when needed—being communicative and responsive to team members' queries will create an environment of trust and open communication, which is essential for successful teams.
Todd Saunders, General Manager, BIG Safety
Identify Employee Motivators
Learn what motivates each employee. For example, some employees feel motivated when they engage in check-ins with leadership—some like to be left alone, some like recognition, and some hate being in the spotlight. 
Each of your team members places a unique value on what motivates them; find out what they appreciate individually to be the best leader to each person.
Susan Shaffer, President, Pneuma Nitric Oxide
Establish a Culture of Feedback
Create a culture of feedback from the get-go. First-time managers should hold regular meetings with their team—group or one-on-one—to keep communications strong and open from the start. 
New managers often fall into the trap of waiting for reviews to have conversations with their team members, but this can work against you. When you have more frequent meetings, you'll have a better idea of whether you are setting reasonable and clear goals. 
Employees can also provide you with invaluable feedback to help you grow as a manager. Keep the lines of communication open from the beginning.
Brian Munce, Managing Director, Gestalt Brand Lab
Know the Boundaries
Learn how to put boundaries down. It is easy to get really close with your team, feel like family, be friends, etc., but you have to, to some extent, dissociate yourself emotionally from your team and put down boundaries. 
There will be disputes, and no one stays in the same company forever, and things shouldn't get personal where possible. It'll save you a lot of emotional exhaustion and will keep your decisions and management style unbiased. That being said, it is important to have good relations with your employees, just understand where to draw the line.
Derek Sall, Founder, Life and My Finances
Be Mindful of Your Own Biases
One tip I have for first-time managers is to be mindful of their own biases and to be aware of the ways they might be unintentionally undermining the work of their team. 
As a new manager, you are likely to unconsciously assume that everyone thinks the same way you do, and you may also hold your team to standards that aren't appropriate for them (or for your company).

It's important to realize how much power you have in this role and how much influence you can have over your employees' performance—both in terms of how they view themselves as professionals and how they feel about their work. 
It's important not just because it's a good business practice but also because it will help you build trust with your team, so they are more willing to share information and ideas with you.
Kimberley Tyler-Smith, VP, Strategy & Growth, Resume Worded
Ask for Coaching From Your Boss
As the saying goes: you don't know what you don't know. 
Managing people for the first time comes with a lot of things you have never encountered before. It is not just about delegating work; you have to determine how you want to motivate individuals to do great work.  
You need to understand how to develop talent, learn how to measure performance, set the right culture, communicate the right information, and so much more.  
The best way to stay on top of your new role is to have an open coaching relationship with your boss so they can provide you with proactive guidance and advice to help you be successful in this new role.
Jaime Chambron, CEO, Career Agility System
Keep It Fun
I'm in the engineering space, so as you can imagine, it's not all fun and games, but I try to keep it fun.  
By allowing your team to blow off some steam it helps them to have passion and find joy in their jobs, which increases retention. Everyone reaches a point where money no longer matters, but we still want to be happy and fulfilled in our job.  
So loosen up a little, and think of it like being the manager of a football team. If you have a team of the most talented athletes, you will probably not win the title because the egos will keep the locker room too serious. 
Instead, pick mid-range talent who can relate, give each other a hard time, laugh, and have fun. Then their passion will align, and you will reach the mountain top.
Heather Eason, Founder, President, & CEO, SELECT Power Systems