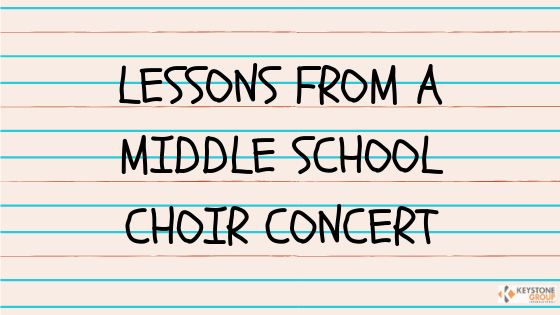 We frequently find ourselves with busy schedules full of meetings, sports events, appointments, and other day-to-day activities that we forget to take a moment to observe what is going on around us. Slow down and take a step back to look around you and reflect on what is happening. In our attempt to check every box in our schedule, we miss those small lessons and opportunities to reflect.
While it's important to acknowledge that there is always room to learn and grow, we should acknowledge and appreciate the small milestones we have gone through to reach our end goal. It is important to take time to think about what lesson is being presented to you at the moment and what you can take away.  I wanted to share one of those moments with you that happened to me at a 7th-grade choir concert.  Sometimes you get reminded of important lessons when you least expect it….
We're all a little awkward. Own it.
The word awkward is often seen as something bad or is associated with being a negative characteristic. Instead of shying away because we are in an awkward stage in our lives or in our business, we should embrace that stage of change we are in. We are constantly growing and evolving, so own that awkwardness!
Those who love and support you, don't care if you're perfect.
Try, learn, and grow. The people who love and support care that you are working towards your goals and that you are trying. Our execution isn't always in perfect our minds, but it is all about how you pick yourself up and try again. Go for it, both professionally and personally.
You will survive.
Remind yourself that you will get through whatever is happening. There are times when we find ourselves worried and upset because we seem to be stuck in a situation that doesn't seem to get better. Accept the stumble and take the situation one foot in front of the other.
Just do you. Play big and play loud.
Be who you are, own it, and don't be afraid to be your true self. If a mistake was made, own it, and move forward from it. Take a lesson from your stumbles and use that towards your growth and how you can grow stronger.
Take a moment to reflect.
Slow down and take a moment to assess where you are but also how far you have come. Think about how much you have learned within the past year, or even within the last month. We go through small changes that are part of our evolution that ultimately become a big change in who and where we are.

Be authentically who you are. Learn to accept the stumbles and the mistakes because, at the end of the day, they are part of our journey to our goals. Who knew that 7th-graders could teach you so much?

Listen to this podcast here.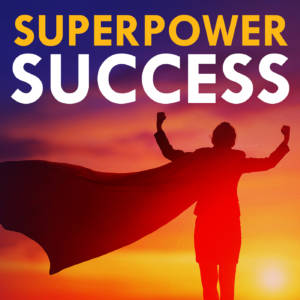 Are you ready to start driving results with a realistic and actionable plan that unleashes your full potential?
It all starts with a single, intentional conversation.