Through our experience in a large corporate environment, small boutique businesses, and our combined 35 years of business ownership, we have experienced the ups and downs of building a career and a business. As speakers, coaches, and facilitators, we bring our passion for impact to those we speak to. We strongly believe that in the tough times of life and business is where you need the most hope and inspiration to help you conquer the fear. In our engaging and interactive sessions, we bring a sense of trust, vulnerability, and action to leave participants wanting to impact change in themselves and others.
Speaking event formats can be keynotes, half and full day workshops, or small group training and coaching.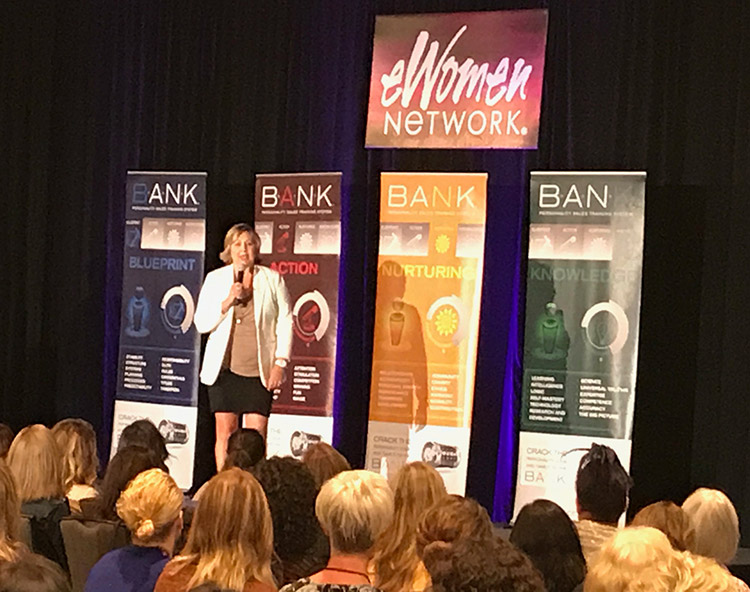 Participants in our sessions will leave with a better understanding of:
How to strengthen Six Key Components™ of their business for maximum impact
How to be a better leader and impact change in your organization and beyond
How to shift all of the energy of their organization in one consistent direction
Key tools they can use to create an organization of trust and accountability
Speaking Topics Include:
What are your leadership superpowers?
In this keynote we discuss the innate strengths that each of us has to help us develop and successfully lead in our organizations. Each person's SuperPowers are different and need to be defined so they can be maximized. The success and growth of any organization is highly dependent on the quality of the leadership within the organization.
Beyond the Paycheck… Winning the Talent War
Most leaders are looking at the current talent market and wondering how they are going to retain and recruit the best people to grow their business and achieve their goals.  In a tight labor market, the best companies need to focus on unique things that set them apart and really drive engagement and high performance.  In this keynote/workshop, we will talk about the following topics:
How to retain your top talent that you have today and drive higher performance in a tight labor market
Key aspects of your business that might be driving lower engagement and retention – things you don't even realize
Creating a talent retention and recruitment roadmap that is aligned to your growth strategy
The Talent war – what does the top talent in your industry actually want?  Creative (and inexpensive) ways to increase retention, engagement, and performance in your workforce.
The myth – you don't need everyone to be on the "A" team, how to drive higher performance in even your middle of the road employees – and the impact it can have on your bottom line.
This topic will help you get Beyond the Paycheck with your employees and driving a healthy culture.
Beyond the Change… Driving REAL Change in your Organization
All of us are dealing with cycles of constant change in our organizations, due to internal and external factors alike.  How can you prepare your organization to operate in this constant state of change?  And how can you create a culture that is so adaptable to change that it becomes a competitive advantage for your organization?  In today's rapidly changing business climate, we have to coach, prepare and support our teams to see change as an opportunity and to continue to drive high performance even in the face of change.  In this workshop, we talk about the fundamentals of change and how leaders can create an environment where change is not feared, but seen as something that creates an opportunity for growth.
The Communication Code
Have you ever wondered why you can meet some people and have an instant connection and others, it's like you are living on two different planets?  We all have.  The good news is that the reason is based in science and the better news is that we can learn the communication code that allows us to create deeper connections with people, even people who are very different than us.
Ineffective communication is at the root of many of the issues that we deal with personally and professionally and we believe that focusing on improving our own communication skills can open up channels of communication that will give us greater impact and more fulfillment in life.
In this keynote/workshop we will discuss the science behind personalities and communication styles and how we can adjust our approach to get the most out of every interaction, whether it's in our families, our businesses, or our communities.
LevelUP your business!
Have you ever had that feeling of being stuck?  Do you have days where you wonder if you are doing the right thing in your career or your business?  Does it feel like your business is running you more than you are running it?  In this presentation, you will learn about the key factors that might be holding your business or career back.  We will discuss key strategies to take your business or career to the next level.  Real, simple and practical tools that will help create healthy and sustainable growth…no theories here, just plain experience and advice on what works for our clients.  It's time to LevelUP!
Why They Buy
Companies spend thousands of hours and millions of dollars teaching their sales people how to sell, when the only thing they should be focused on is what's impacting their bottom line, which is WHY THEY BUY. The fact is that any successful business, no matter what its core product or service, ultimately has a single goal: MORE SALES. Unfortunately, it's difficult to know what you can do to predictably and dramatically increase sales without spending tons of money on advertising. Luckily, cutting-edge personality science has revealed that there are only four different "buying personalities" that make decisions in similar ways – and you can predictably reach each one. We teach about how to apply this science to have a significant impact on your sales and customer retention.
Cash Flow Confidence
What are the key factors in being able to confidently make a financial decision that impacts your business and/or your personal life?  The stats around financial confidence for most people show that the emotions behind making these decisions have a deep and long-lasting impact on financial security and success. According to a U.S. Bank study, a whopping 82% of businesses that fail do so because of cash flow problems.
Even for people that understand the financial piece it is hard for them to determine where they should spend the dollars they have in order to create the best return on their investment.  Determining the key areas that need to be enhanced and improved is the first step and then learning how to move into action with a strategy and plan and be confident that it will create the results you are looking for is step two.
In this keynote/workshop we will talk about the steps to being more confident in these decisions:
Understanding the budget and how to maximize and find the dollars you need to bring in the missing pieces, (such as marketing, training or leadership development).
Strategies and tools to use with your team around daily activities and what is needed to drive the revenue to be financially successful.
How do you build/sell those products/services that create the recurring revenue you need to cover the overhead year after year?
How to find and engage with the trusted advisors that can help you create a solid strategy.  What are the key questions you should be asking your advisors to determine if they are a good fit for your organization.
Contact us today to talk about
the goals for your next event.

Start reaching your full potential.
Call or email us today.