Achieving healthy growth, together.
Achieving healthy growth, together.
Why we are different
The deep, real-world experience of the Keystone team helped us realize we want to do things differently. We exist to make a meaningful, sustainable impact for your business. Anyone can throw solutions and strategies at you, but what sets us apart is our ability to dig deeper, unearth what's holding you back, create a plan and help you drive the results.
How we are different
Changing your methods and adjusting processes is essential for growth, but it's not always enough. We help you examine your business at a deeper level to identify the root of what's really holding you back.
This is how we do that differently:
Radical
Honesty
When it comes to meeting your goals, radical honesty gets you further faster. KGI will tell you what you need to hear, even if it's not what you want to hear.
Motivation Meets
Dedication
We believe in creating relationships with significance and that partnership goes both ways. We want to work with leaders who are ready to do the hard work.
Accountability
in Everything
Strategy is just the beginning. We hold you, your team and ourselves accountable for the plan we set in place with regular check-ins, ongoing discussions and "tough love" conversations.
Partner in
the Journey
We don't disappear once a plan is set. We're on this growth journey with you every step of the way, as an involved partner and a trusted advisor.
The Keystone Process
As a partner who continually challenges your "how," we do the same to our own methods. Our solutions are proven to work, but how we get there is equally important.
Every journey is different—there is no one-size-fits-all approach to what we do. We customize solutions to meet you where you're at on your journey and that work for your team.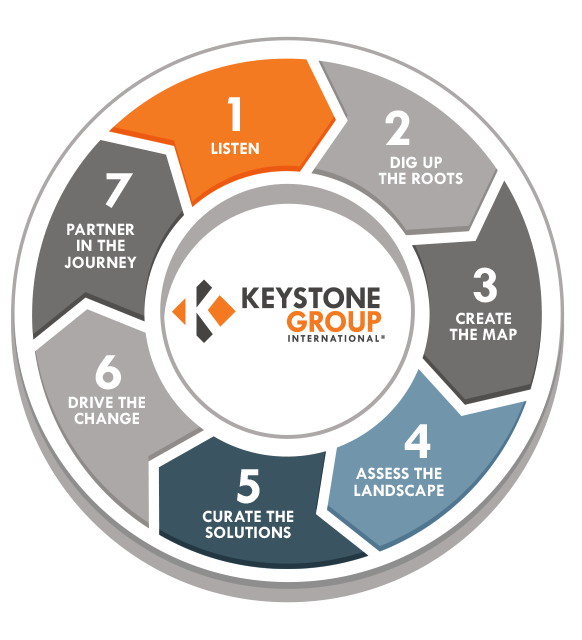 Ready to get further, faster?
Contact us today.